THE CAPITAL MAGIC CONNECTION NEWS
SEPTEMBER MEETING OF THE SAM ASSEMBLY 24

SAM Assembly 24 will meet on Tuesday, September 10, at 7:30 at S. W. Pitts Hose Company, 226 Old Loudon Road, in Latham, NY. This will be an open-mike meeting, so you can do any old thing you like. We are beaming in on the word "old" (something you used to do, but haven't done in a while.) Pull a trick out of the mothballs, dust it off, and give it new life.

Again, we select topics to encourage and inspire you, not to limit what you can do. If you have something off-topic, by all means, do it.

SEPTEMBER MEETING OF THE IBM RING 186

IBM Ring 186 will be meeting on Tuesday, September 24, at 7:30 at S. W. Pitts Hose Company, 226 Old Loudon Road, in Latham, NY. Program to be announced

SAM ASSEMBLY 24 BANQUET AT THE DUNHAM'S BAY RESORT

This year's banquet will take place on Sunday, October 6, 2019, beginning at 3:00 in the afternoon. The schedule is:

3:00 to 4:30 - Happy hour with cash bar and free hors d'oeuvres
4:00 to 5:00 - Close Up Magic Show with two stations and four performers
5:15 to 6:30 - Buffet dinner
6:30 - Comedy Magic Show with Daniel Greenwolf, Celtic Magician*

*These times are only approximate.

The buffet menu:

Grilled Lemon Chicken
Baked Stuffed Sole
Vegetable Lasagna
Caesar Salad
Pecorino Basmati Rice
Market Vegetable
Berry Cobbler
Coffee - Tea

Close-up performers will be:



Evil Dan
David McDonald
Gary Dorman
And one more. To be announced

For our after dinner show we have invited Daniel Greenwolf from Connecticut to be our entertainer for the evening. Daniel is a regular at the ICBM New England Gathering of the Magi.
His performing style is both unique and exciting. If you want to know more about Daniel go to his website at: https://www.danielgreenwolf.com/

The cost the banquet will be the same as last year.

SAM Assembly 24 members and one guest......$20.00 per person
Non-members ...............................$30.00 per person

If you are not a member of SAM Assembly 24, you can join for $20.00 and save $10.00 on the cost of the banquet. If you bring a guest, you will save the total cost of your membership. How can we do this? . . .with mirrors and invisible thread. We are magicians, aren't we?

Reservations

We must have a headcount for the restaurant by September 19. We are asking you to get your checks to Ken before that date. If you want to attend this year's banquet, you will have to move quickly. You have just two weeks to sign up for this year's banquet.

MAIL YOUR CHECK TO ARRIVE BEFORE SEPTEMBER 19 TO:

Ken Marcinowski
1107 Raymond Rd
Ballston Spa, NY
12020

Make your check payable to "SAM Assembly 24."

MARK YOUR CALENDARS FOR THESE UPCOMING SHOWS AND EVENTS

Every Tuesday: THE MORNING MAGIC GROUP: meets at 7:30 at Panera north of Glens Falls at Exit 19 of the Northway. Call Cliff, Dave, Roger, or Helen for information or directions.

Sunday, October 6: SAM Assembly 24 Annual Banquet at Dunham's Bay Resort on Lake George. With Daniel Greenwolf and four closeup performers.

November 14-16: ICBM New England Gathering of the Magi at the Wyndham in Southbury, CT. To register go: http://www.icbmmagick.com/the-icbm-gathering-2018/

January 18-21, 2020: The SAM National Convention in Las Vegas, NV

ANNOUNCEMENTS AND CONTRIBUTIONS

If you know of a magic related event or show which might be of interest to capital area magicians, send that information to me in time for it to be announced in our next newsletter.

Also if you would like to contribute an original article, trick or review of a book, dvd, trick or internet site, send it to me for inclusion in this newsletter. PLEASE DON'T COPY WHAT SOMEONE ELSE HAS WRITTEN UNLESS YOU DOCUMENT THE SOURCE AND HAVE PERMISSION TO SHARE IT.

Material should arrive on or before the first or third Tuesdays of the month to be included in the next newsletter. Send your information or contributions to: cliffordbruce@earthlink.net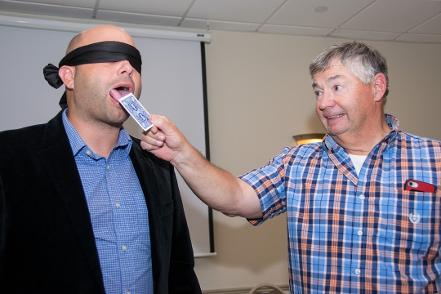 Blind taste testing the magician's way...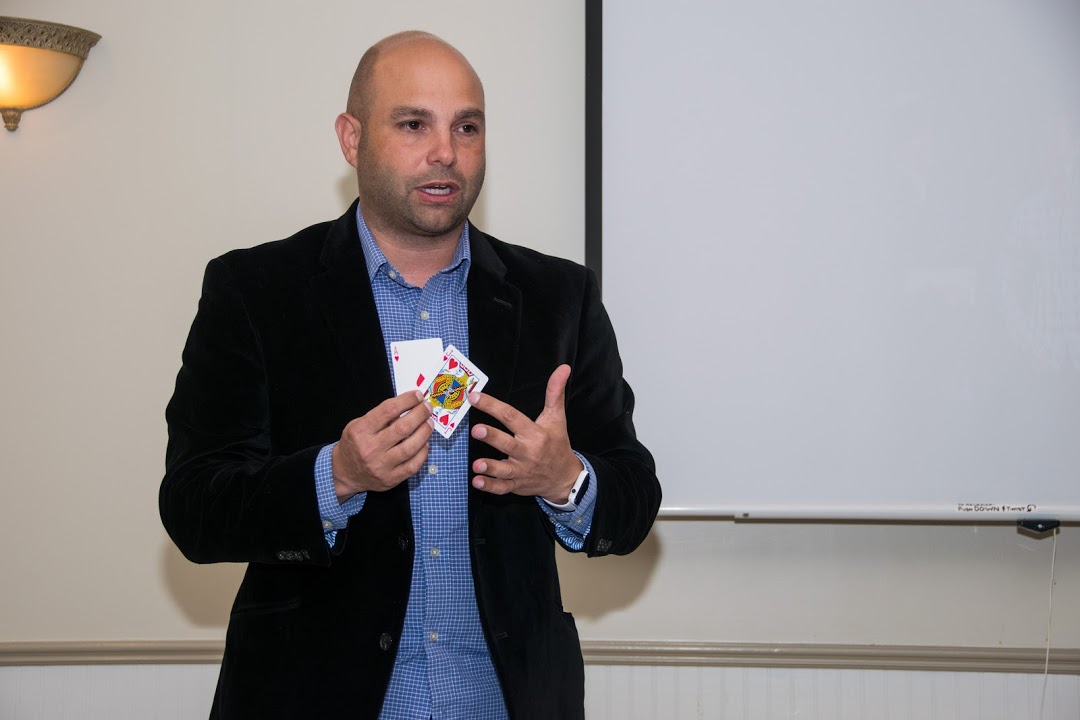 Vinny Grosso gives a guest lecture.
Directory Sign Up Attention SAM Assembly 24 Members: We would like to put a Membership Directory on this website. It will be a password protected page, so only other members would have access to it. Please consider signing up by clicking the button below and filling out the form. Thank you.