THE CAPITAL MAGIC CONNECTION NEWS
SEPTEMBER MEETING OF THE IBM RING 186

IBM Ring 186 will be meeting on Tuesday, September 25, at 7:30 at S. W. Pitts Hose Company, 226 Old Loudon Road, in Latham, NY. There is no topic for this meeting, so we are hoping everybody will show up with something they really want to perform for the group.


OCTOBER MEETING OF THE SAM ASSEMBLY 24

SAM Assembly 24 will meet on Tuesday, October 11, at 7:30 at S. W. Pitts Hose Company, 226 Old Loudon Road, in Latham, NY. Bruce Barnett will be presenting a lecture on building tricks which use electronics. The use of technology in magic allows magicians to perform feats that were never possible before. Here is your chance to learn how to build some of these miracles.

When you build your own magic, two things usually happen: first, you save money, and second, you end up with something that is unique - something no one else has or can buy.

OUR SECOND ANNUAL SAM BANQUET
The SAM Assembly 24 banquet will take place Dunham's Bay Resort, 2999 State Route 9, Lake George, NY, 12845 on Sunday, September 30, 2018, beginning at 3:00 in the afternoon. We have received checks for 28 people. We could still add one or two more to the guest list if we don't wait too long.

If you haven't yet signed up and are interested in attending this year's banquet contact Ken Marcinowski immediately. His phone number is 518 885-9400 and his email address is nildekens@msn.co
THE MORNING MAGIC GROUP HAS MOVED
The Panera at Exit 15 in Saratoga is closed for remodeling. So the morning magic group is temporarily meeting at the Panera at Exit 19 in Queensbury (Glens Falls.) We meet at 7:30 am. If you have any questions contact Cliff, Dave, Roger, or Helen for information or directions. Because of the changes in location, I suggest you call before coming to find out where we are meeting. My store number is 518 747 3261 and my home number is 518 793-6776.

MARK YOUR CALENDARS FOR THESE UPCOMING SHOWS AND EVENTS

Every Tuesday: THE MORNING MAGIC GROUP: meets at 7:30 at ??? Call Cliff, Dave, Roger, or Helen for information or directions.
September 29: 2018 Milbourne Christopher Awards Presentation at the Garde Arts Center, New London, Connecticut. Our own Jimmy Brown will receive an Ambassador of Magic Award at this event. Entertainment for the evening will be a performance by Jonathan Neal. For more information and tickets go to: https://squareup.com/store/milbourne-christopher-foundation
Sunday, September 30: Annual Banquet at Dunham's Bay Resort. We will start at three in the afternoon with a happy hour followed by a closeup show, dinner, and an after dinner show.
November 8,9,&10: ICBM 25th Annual New England Gathering of the Magi at the Sheraton Hartford South Hotel, 100 Capital Boulevard, Rocky Hill, CT. For more information and registration go to: http://www.icbmmagick.com/the-icbm-gathering-2018/
UP-COMING SHOWS AND EVENTS

If you know of a magic related event or show which might be of interest to the capital area magicians, send that information to me in time for me to announce it in this newsletter. Send your information to: cliffordbruce@earthlink.net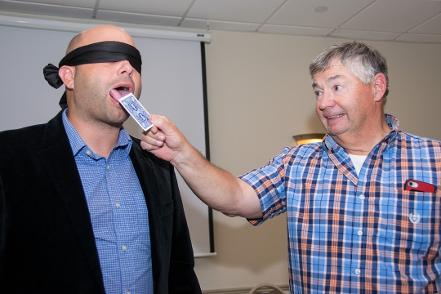 Blind taste testing the magician's way...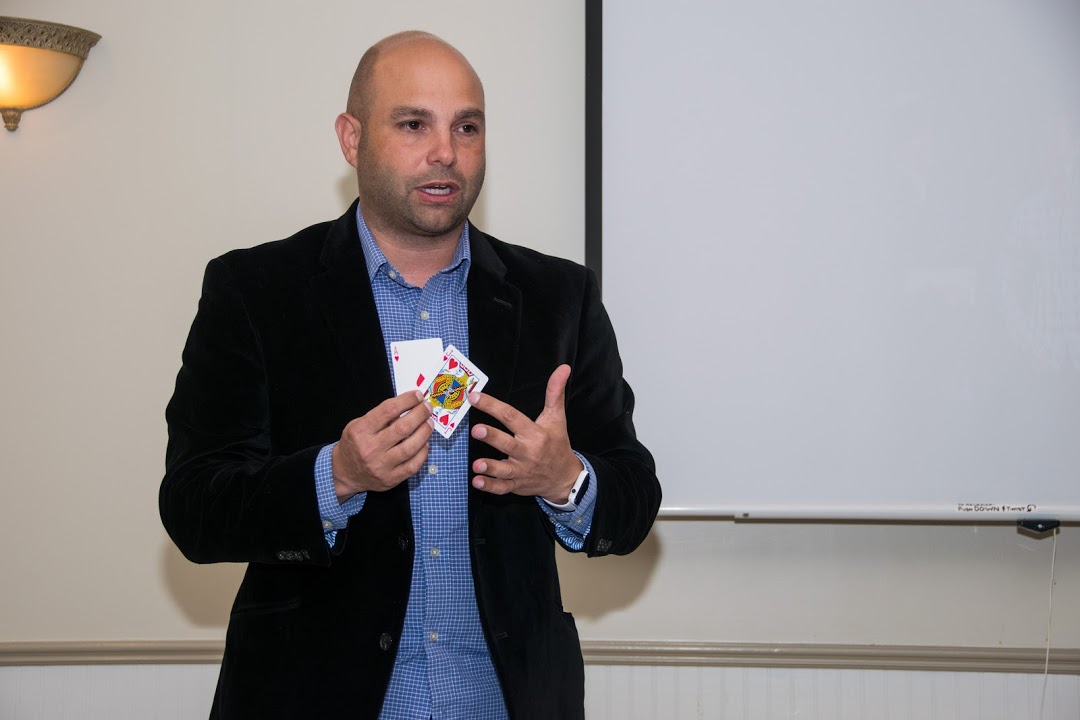 Vinny Grosso gives a guest lecture.
Directory Sign Up Attention SAM Assembly 24 Members: We would like to put a Membership Directory on this website. It will be a password protected page, so only other members would have access to it. Please consider signing up by clicking the button below and filling out the form. Thank you.