THE CAPITAL MAGIC CONNECTION NEWS
AUGUST MEETING OF THE SAM ASSEMBLY 24
SAM Assembly 24 will meet on Tuesday, August 14, at 7:30 at S. W. Pitts Hose Company, 226 Old Loudon Road, in Latham, NY. In keeping with our invitation to have younger, school-age, magicians join us for our summer meetings, I am suggesting we all bring tricks that are easy to teach, learn and do. Perform a simple trick, and then teach it to the rest of us, both young and old.
AUGUST MEETING OF THE IBM RING 186
IBM Ring 186 will be meeting on Tuesday, July 24, at 7:30 at S. W. Pitts Hose Company, 226 Old Loudon Road, in Latham, NY. The topic for this month's meeting will be magic with bottles and bowls. It has been awhile since we encouraged magic with either bottles or bowls, so we are looking forward to see some new material.
A BIG THANK YOU TO KEN AND SARA BECKLEY

This year's Annual IBM/SAM Picnic was one of the highlights of our magical year. We had good weather, good conversation, good food, good magic, and a great location for the event thanks to the generosity of the Beckleys. Thanks for all who brought these yummy dishes to share and to those who performed all those amazing feats of legerdemain and particularly to the Beckleys for "the use of the hall." Thank you one and all.
THE ART OF MAGIC POSTAGE STAMPS

Last Tuesday (8-7-2018) the U.S. Postal Service issued a series of The Art of Magic postage stamps. If you want to see what they look like go to your local post office or look inline at:
https://store.usps.com/store/product/buy-stamps/the-art-of-magic-S_476804

These are "forever" stamps so you can buy them now, and use them in the future. You may want to buy one sheet just to collect.

MARK YOUR CALENDARS FOR THESE UPCOMING SHOWS AND EVENTS

Every Tuesday: THE MORNING MAGIC GROUP: meets at 7:30 at Panera in Saratoga. Call Cliff, Dave, Roger, or Helen for information or directions.

September 22: Evil Dan and Colleen, the Sideshow Queen, will be performing their Psychic Sideshow at the Strand Theater in Hudson Falls. The show starts at 7:00; admission for adults $15, age 13 and under $10. Tickets at the door. For more information go to: www.mystrandtheater.org

September 29: 2018 Milbourne Christopher Awards Presentation at the Garde Arts Center, New London, Connecticut. Our own Jimmy Brown will receive an Ambassador of Magic Award at this event. Entertainment for the evening will be a performance by Jonathan Neal. For more information and tickets go to: https://squareup.com/store/milbourne-christopher-foundation

Sunday, September 30: Annual Banquet at Dunham's Bay Lodge. We are planning to start around two in the afternoon with a happy hour and followed by a closeup show, dinner, and an after dinner show.

November 8,9,&10: ICBM 25th Annual New England Gathering of the Magi at the Sheraton Hartford South Hotel, 100 Capital Boulevard, Rocky Hill, CT. For more information and registration go to: http://www.icbmmagick.com/the-icbm-gathering-2018/

UP-COMING SHOWS AND EVENTS

If you know of a magic related event or show which might be of interest to the capital area magicians, send that information to me in time for me to announce it in this newsletter. Send your information to: cliffordbruce@earthlink.net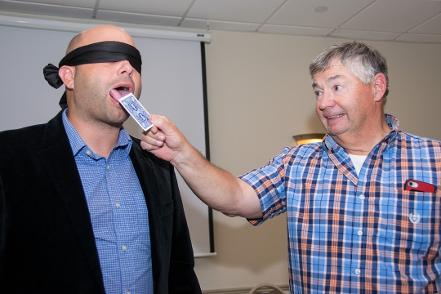 Blind taste testing the magician's way...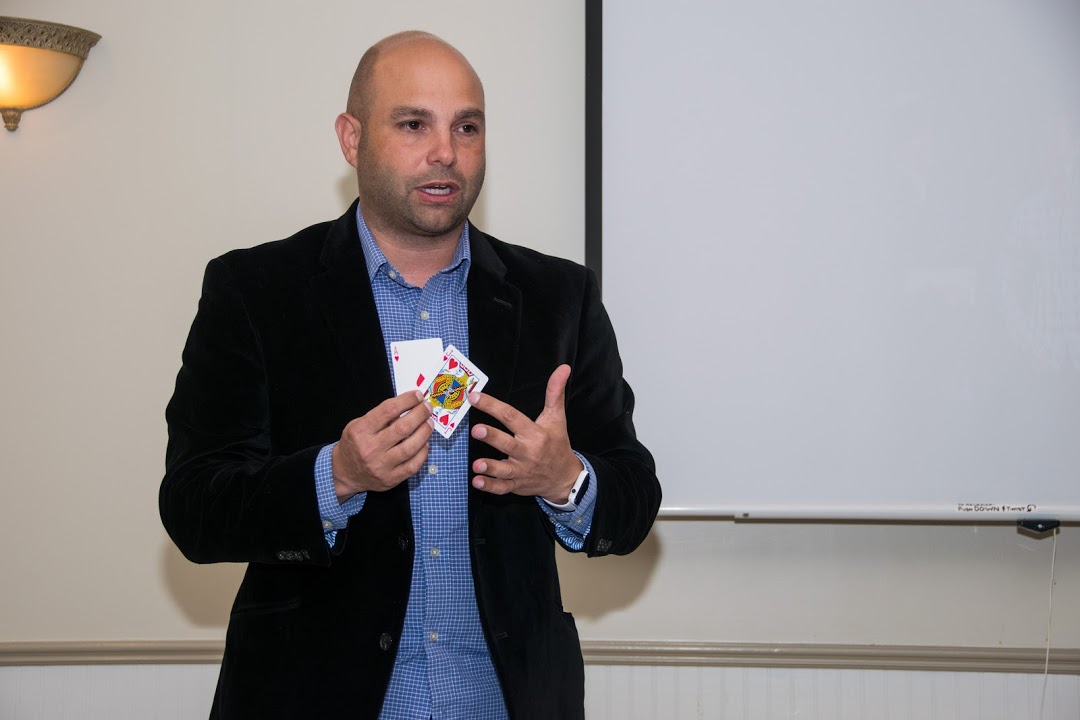 Vinny Grosso gives a guest lecture.
Directory Sign Up Attention SAM Assembly 24 Members: We would like to put a Membership Directory on this website. It will be a password protected page, so only other members would have access to it. Please consider signing up by clicking the button below and filling out the form. Thank you.