THE CAPITAL MAGIC CONNECTION NEWS
SEPTEMBER MEETING OF THE SAM ASSEMBLY 24
SAM Assembly 24 will meet on Tuesday, September 11, at 7:30 at S. W. Pitts Hose Company, 226 Old Loudon Road, in Latham, NY. The topic for this meeting will be apparatus magic. This is an opportunity to show off your favorite piece of magical apparatus and demonstrate what it can do and you can do with it.
SEPTEMBER MEETING OF THE IBM RING 186
IBM Ring 186 will be meeting on Tuesday, September 25, at 7:30 at S. W. Pitts Hose Company, 226 Old Loudon Road, in Latham, NY. The topic for the September meeting will be announced in our next newsletter.
THE DEADLINE TO SIGN UP FOR THE BANQUET IS FAST APPROACHING
This year's banquet will take place Dunham's Bay Resort, 2999 State Route 9, Lake George, NY, 12845 on Sunday, September 30, 2018, beginning at 3:00 in the afternoon. We need to have a headcount by September 14. That is just a week away. If you want to attend this year's banquet, you will have to move quickly. Mail your check to: Ken Marcinowski 1107 Raymond Rd Ballston Spa, NY 12020 Make your check payable to "SAM Assembly 24." The cost of the banquet will be the same as last year. SAM Assembly 24 members and one guest......$20.00 per person Non-members ...............................$30.00 per person If you are not a member of SAM Assembly 24, you can join for $20.00 and save $10.00 on the cost of the banquet for yourself. If you bring a guest, you will save the entire cost of this year's membership, BUT YOU MUST MOVE QUICKLY. If you need to contact Ken directly, his telephone number is: 518 885-9400 and his email address is: nildekens@msn.com
MARK YOUR CALENDARS FOR THESE UPCOMING SHOWS AND EVENTS
Every Tuesday: THE MORNING MAGIC GROUP: meets at 7:30 at Panera in Saratoga. Call Cliff, Dave, Roger, or Helen for information or directions.
September 22: Evil Dan and Colleen, the Sideshow Queen, will be performing their Psychic Sideshow at the Strand Theater in Hudson Falls. The show starts at 7:00 pm; admission for adults $15, age 13 and under $10. Tickets at the door. For more information go to:www.mystrandtheater.org
September 29: 2018 Milbourne Christopher Awards Presentation at the Garde Arts Center, New London, Connecticut. Our own Jimmy Brown will receive an Ambassador of Magic Award at this event. Entertainment for the evening will be a performance by Jonathan Neal. For more information and tickets go to: https://squareup.com/store/milbourne-christopher-foundation
Sunday, September 30: Annual Banquet at Dunham's Bay Resort. We will start at three in the afternoon with a happy hour followed by a closeup show, dinner, and an after dinner show.
November 8,9,&10: ICBM 25th Annual New England Gathering of the Magi at the Sheraton Hartford South Hotel, 100 Capital Boulevard, Rocky Hill, CT. For more information and registration go to: http://www.icbmmagick.com/the-icbm-gathering-2018/
UP-COMING SHOWS AND EVENTS
If you know of a magic related event or show which might be of interest to the capital area magicians, send that information to me in time for me to announce it in this newsletter. Send your information to: cliffordbruce@earthlink.net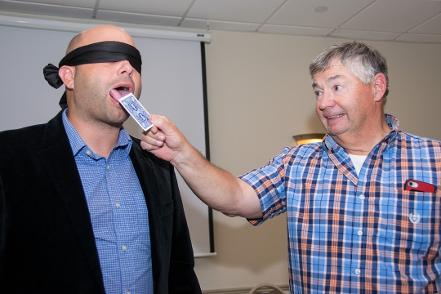 Blind taste testing the magician's way...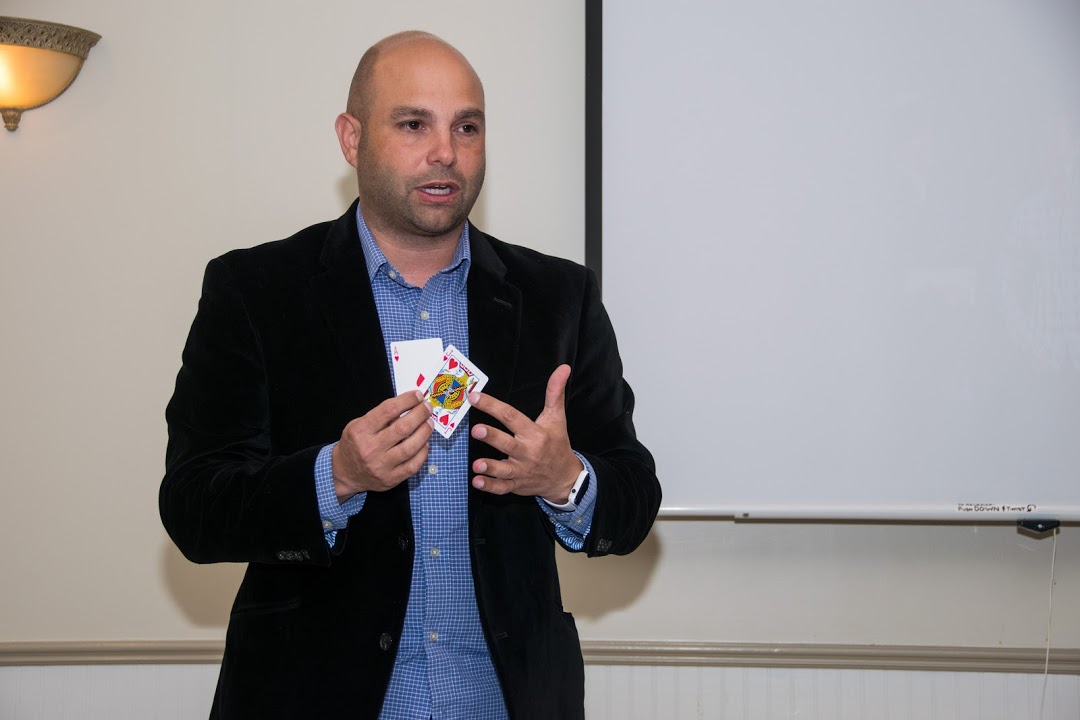 Vinny Grosso gives a guest lecture.
Directory Sign Up Attention SAM Assembly 24 Members: We would like to put a Membership Directory on this website. It will be a password protected page, so only other members would have access to it. Please consider signing up by clicking the button below and filling out the form. Thank you.