THE CAPITAL MAGIC CONNECTION NEWS
NOVEMBER MEETING OF THE SAM ASSEMBLY 24

SAM Assembly 24 will meet on Tuesday, November 12, at 7:30 at S. W. Pitts Hose Company, 226 Old Loudon Road, in Latham, NY. By the time this meeting comes around, both Magic Month and Halloween, 2019, will be history and we will looking forward to the holidays. During the holiday season, many performers are hoping to get some extra paid gigs.

Too many magicians want to specialize in closeup magic, but the people hiring a magician usually want him or her to entertain a larger group. Our November meeting will focus on stage magic (magic suitable for an audience of 30 or more people.)

Since the projector appears to working, I plan to open the meeting by showing a few clips of stage performers. If this works we might plan to use the projector to view a clip or two related to the topic for a particular meeting.

In the olden days, we used to have something called "Video Night." The whole meeting would be dedicated to showing performance clips members wanted to share with the group. The biggest problem with these meetings was finding a way to show the clips. The projector never seemed to work right. We may have solved that problem.

NOVEMBER MEETING OF THE IBM RING 186

IBM Ring 186 will be meeting on Tuesday, November 25, at 7:30 at S. W. Pitts Hose Company, 226 Old Loudon Road, in Latham, NY. Since no topic has been suggested for this meeting, I suggest you do anything you like. If you need a topic to stimulate your imagination, try one of these: a rope trick, a coin trick, a silk trick, or, heaven forbid, A CARD TRICK!!!

You've got a couple weeks to think about it.

THE MORNING MAGIC GROUP HAS MOVED TO SARATOGA FOR THE WINTER

Now that Jimmy Brown and Ken Beckley have moved south for the winter, the morning magic group will do the same. Only we're not moving as far south. We have moved to the Panera at Exit 15 of the Northway.

The group is open to anyone who wants to sit around and visit with some other people who share an interest in magic.

SAM DUES

Ken Marcinowski, our SAM Treasurer and part-time financial genius, informs me that if you wish to pay your 2020 dues, he would be willing to collect same at the November and/or December meetings. By paying early, you will avoid the unpleasantness of having Ken twist your arm at some later date. The dues are $20.00, and if you attend the lecture and the banquet, you get all of your money back and with a guest you get more than your $20.00 back.

Did I tell you Ken is a part-time financial genius?

MARK YOUR CALENDARS FOR THESE UPCOMING SHOWS AND EVENTS

Every Tuesday: THE MORNING MAGIC GROUP: meets at 7:30 at Panera in Saratoga Springs at Exit 15 of the Northway. Call Cliff, Dave, Roger, or Helen for information or directions.

November 14-16: ICBM New England Gathering of the Magi at the Wyndham in Southbury, CT. To register go: http://www.icbmmagick.com/the-icbm-gathering-2018/

January 18-21, 2020: The SAM National Convention in Las Vegas, NV

ANNOUNCEMENTS AND CONTRIBUTIONS

If you know of a magic related event or show which might be of interest to capital area magicians, send that information to me in time for it to be announced in our next newsletter.

Also if you would like to contribute an original article, trick or review of a book, dvd, trick or internet site, send it to me for inclusion in this newsletter. PLEASE DON'T COPY WHAT SOMEONE ELSE HAS WRITTEN UNLESS YOU DOCUMENT THE SOURCE AND HAVE PERMISSION TO SHARE IT.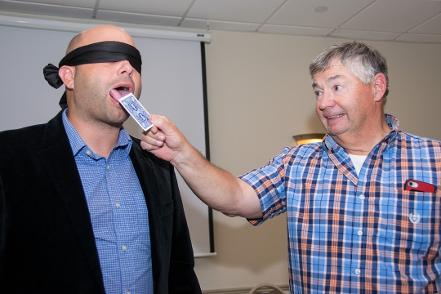 Blind taste testing the magician's way...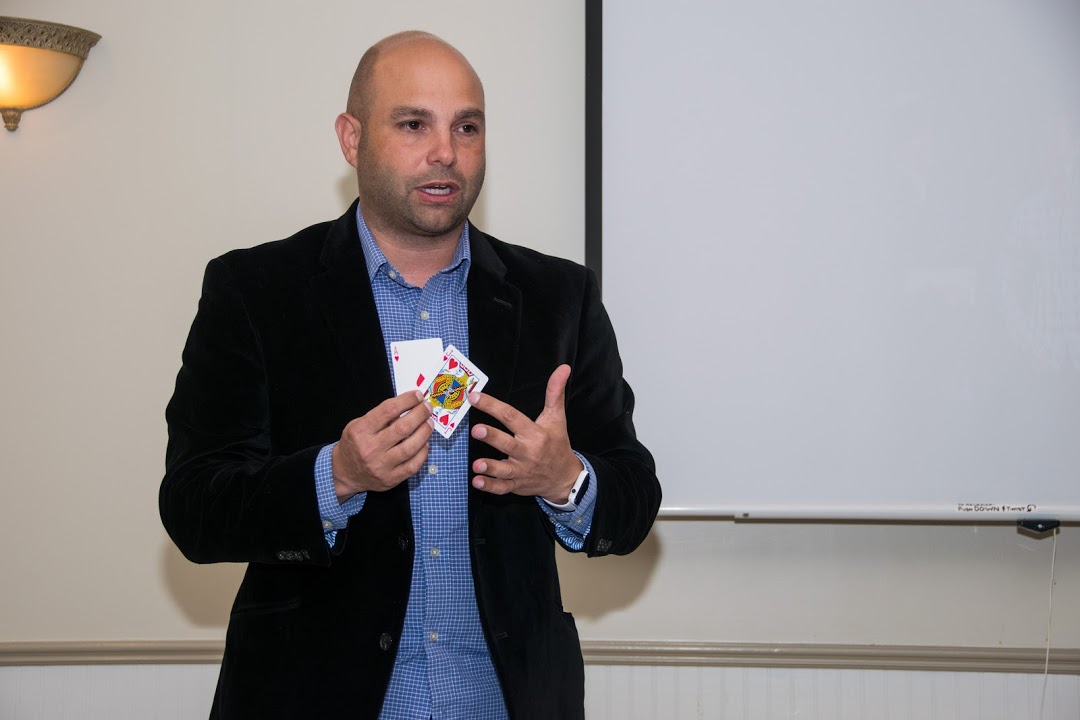 Vinny Grosso gives a guest lecture.
Directory Sign Up Attention SAM Assembly 24 Members: We would like to put a Membership Directory on this website. It will be a password protected page, so only other members would have access to it. Please consider signing up by clicking the button below and filling out the form. Thank you.