THE CAPITAL MAGIC CONNECTION NEWS
FEBRUARY MEETING OF THE IBM RING 186
IBM Ring 186 will be meeting on Tuesday, February 27, at 7:30 at S. W. Pitts Hose Company, 226 Old Loudon Road, in Latham, NY. THE NINTH ANNUAL SELF WORKING OLYMPICS OF MAGIC will be held during this meeting. This program always provides fellowship and laughs. As usual, David MacDonald will be officiating at this year's games and everybody gets a chance to participate, beginners and experts alike. Since everybody is working in a group, no one is singled out for glory or shame. It's all a team effort, and it's all for fun

MARCH MEETING OF THE SAM ASSEMBLY 24

SAM Assembly 24 will meet on Tuesday, March 13, at 7:30 at S. W. Pitts Hose Company, 226 Old Loudon Road, in Latham, NY. The topic for this meeting will be the paddle move, so dig out your Hot Rod, Color Changing Knives, Jumping Gems, and all those other cute paddle tricks from your first magic set. If you don't know the paddle move, we'll teach you how to do it.
SAM ASSEMBLY 24 WEBSITE

Rob Penner has worked diligently to update our website, and it looks great. Check it out for yourself at: http://sam24.synthasite.com/ If you wish to enter the "Members Only" section, the login and password can be found on the back of your 2018 Assembly 24 membership card.

As a part of our website we are going to start offering paid members of SAM Assembly 24 free advertising space. The details about this new section will be available at our March meeting.

GENE ANDERSON LECTURE

Our next Sunday afternoon lecture will be on April 29 at the Fort Hunter Fire Station. Gene Anderson will be our lecturer, and we are promoting this event as a magic lecture and book signing.

Two years ago, Mr Anderson completed GENE ANDERSON: THE BOOK. This 256 page hard cover book has glossy pages, 890 line drawings and photographs , and a bright red dust jacket. Dave McClements bought one at a convention. I have seen his, and it is beautiful. It is not cheap - $65.00, but it is worth the price. It includes all of the material Gene is currently performing and none of the material he has discarded. It is up-to-date and audience tested material that real "part-time pros" can and will use. Material from his book will be the subject of his lecture.

Mr Anderson will be selling and signing his book at the lecture, and it is the only thing he has to sell. I'm planning to buy my copy then. For more information about Gene Anderson and his book go to: http://www.geneanderson.com/

As usual, the cost of the lecture will be $20.00 with a $5.00 discount for early registration (checks to be received on or before Saturday, April 22.) Plus there is another $5.00 discount is for paid members of Assembly 24.


MARK YOUR CALENDARS FOR THESE UPCOMING SHOWS AND EVENTS

Every Tuesday: THE MORNING MAGIC GROUP: meets at 7:30 at Panera in Saratoga. Call Cliff, Dave, Roger, or Helen for information or directions.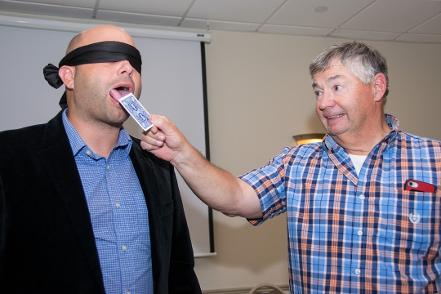 Blind taste testing the magician's way...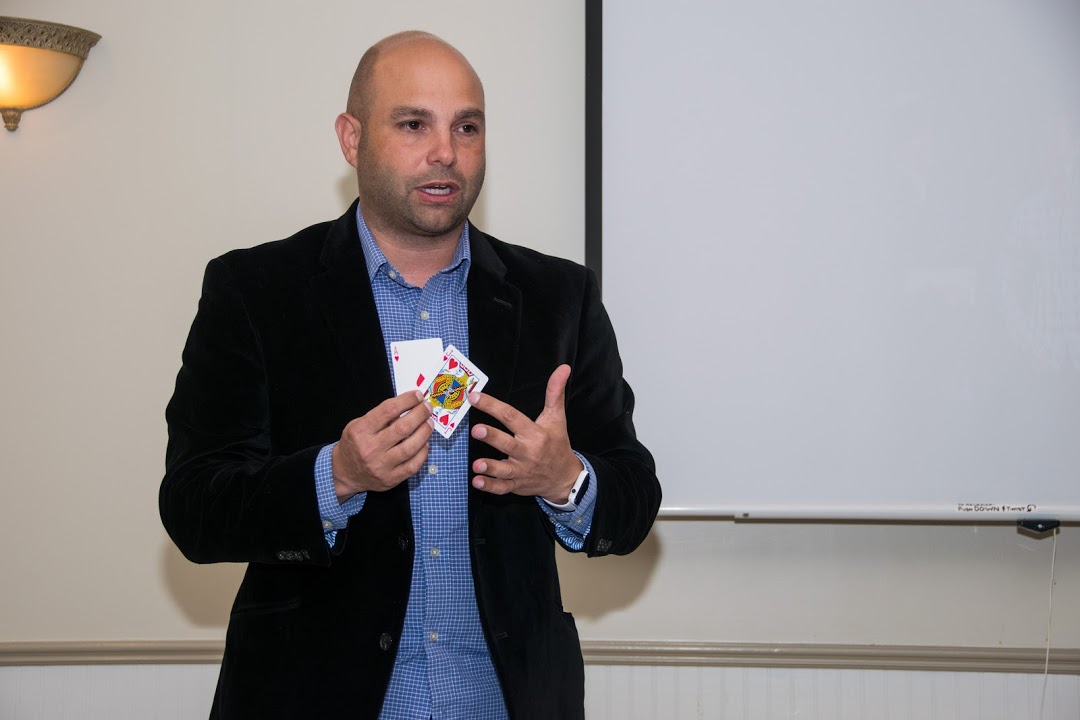 Vinny Grosso gives a guest lecture.
Directory Sign Up Attention SAM Assembly 24 Members: We would like to put a Membership Directory on this website. It will be a password protected page, so only other members would have access to it. Please consider signing up by clicking the button below and filling out the form. Thank you.