THE CAPITAL MAGIC CONNECTION NEWS
DECEMBER MEETING OF THE SAM ASSEMBLY 24

SAM Assembly 24 will meet on Tuesday, December 11, at 7:30 at S. W. Pitts Hose Company, 226 Old Loudon Road, in Latham, NY. Allan Alexander suggested a meeting focusing on the three-card monte. I would like to expand this topic to include all kind of gambling scams such as: the three-shell game, fast and loose, poker deals, and gambling tricks with dice. Whatever you would like to do will be appreciated. We will also being voting on the officers for next year. You must be a member of the national organization to vote or hold office in a local assembly. The proposed slate of offices for 2019 is: Cliff Bruce, President Allan Alexander, Vice President Ken Marcinowski, Treasurer Jean Bruce, Secretary

A BRIEF HISTORY OF THE IBM AND RING 186

The International Brotherhood of Magicians (IBM) was founded February 10th 1922, in Winnipeg, Canada, by Len Vintus (first president), Gene Gordon and Don Rogers. Unlike earlier magic clubs, such as the Society of American Magicians in the USA and The Magic Circle in England, the IBM was begun by magicians living outside the major cities who were unable to attend magic club meetings, and who kept in contact by mail. To do this the organization began, in 1922, to publish its monthly magazine, The Linking Ring. It was also the first magical organization to cross international borders (Canada and the USA.) This allowed it to call itself, "international." It now has local groups meeting around the world and is truly international. With 15,000 members, it is currently the largest magical organization in the world. Gene Gordon established the first local group, Ring 1, in Rochester, New York. The original Ring 1 was eventually disbanded. Later St. Louis, Missouri, assumed the vacated title which it still holds. In the 1960's, a number of capital area magicians would regularly travel to Utica to attend meetings of IBM Ring 101. At the time, this was the closest Ring for magicians living in the capital region. The winter of 1965-66 must have been brutal. The weather was cold, and icy conditions made the Thruway dangerous. In the spring of 1966, Tommy Atkins, Clayton and Lynne Albright, Ruth and Clark Fonda, Gene and Hazel Avery, and Mary Zwolenik decided it was time for a local, capital region IBM Ring. On April 13 1966 the first meeting of what was to become Ring 186 was held at the home of Tommy Atkins' in Schenectady. The thirteen charter members present at that meeting were: Mary T. Zwolernik Ruth A. Buckley (aka Tommy Atkins) Harriett Martin Robin Matin Forrest A. Cummings Eugene E. Avery Clayton Albright William Heffner James H. Gosch Clark J. Fonda Ruth A. Fonda Lynne Albright Frank Mauiello Ring 186 was granted its charter on October 1, 1966, and because it had thirteen charter members it was called the "Mystic Thirteen." The first president of Ring 186 was Ruth A. Buckley, better known as Tommy Atkins. She performed as both a ventriloquist and magician, and was a featured performer at Charlie Wood's Storytown. Tommy also served as Territorial Representative for the IBM from 1993 until 1997. In 1964, two years before Ring 186 was chartered, Tommy organized a local magic convention called All-Magic Day. This was an annual magical event held in the capital area for more than 35 years. For the first few years, meetings were held at members homes. These were informal social and magical events, usually ending with food served by the host or hostess. However, in 1969 the group started meeting at the Schenectady County History Society. In 1979 the meetings were moved to the United Presbyterian Church in Schenectady. The Rev. Donald Stake, a member of the group since its inception was pastor at that church. There is more history to tell, but this was to be a brief history, and it has already gone on too long.


MARK YOUR CALENDARS FOR THESE UPCOMING SHOWS AND EVENTS

Every Tuesday: THE MORNING MAGIC GROUP: meets at 7:30 at Panera in Saratoga. Call Cliff, Dave, Roger, or Helen for information or directions.

Sunday, May 19, 2019: Assembly 24, Spring lecture at the Fort Hunter Fire House. The doors usually open at noon and the lecture starts at 1:00. I have tentatively scheduled Craig Dixon as our lecturer, but have not confirmed this yet.

UP-COMING SHOWS AND EVENTS
If you know of a magic related event or show which might be of interest to the capital area magicians, send that information to me in time for me to announce it in this newsletter. Send your information to: cliffordbruce@earthlink.net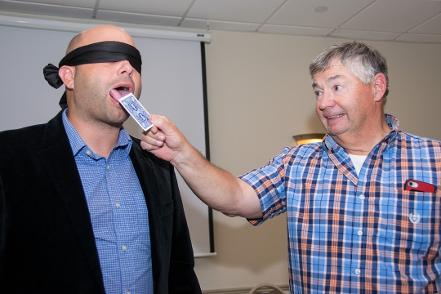 Blind taste testing the magician's way...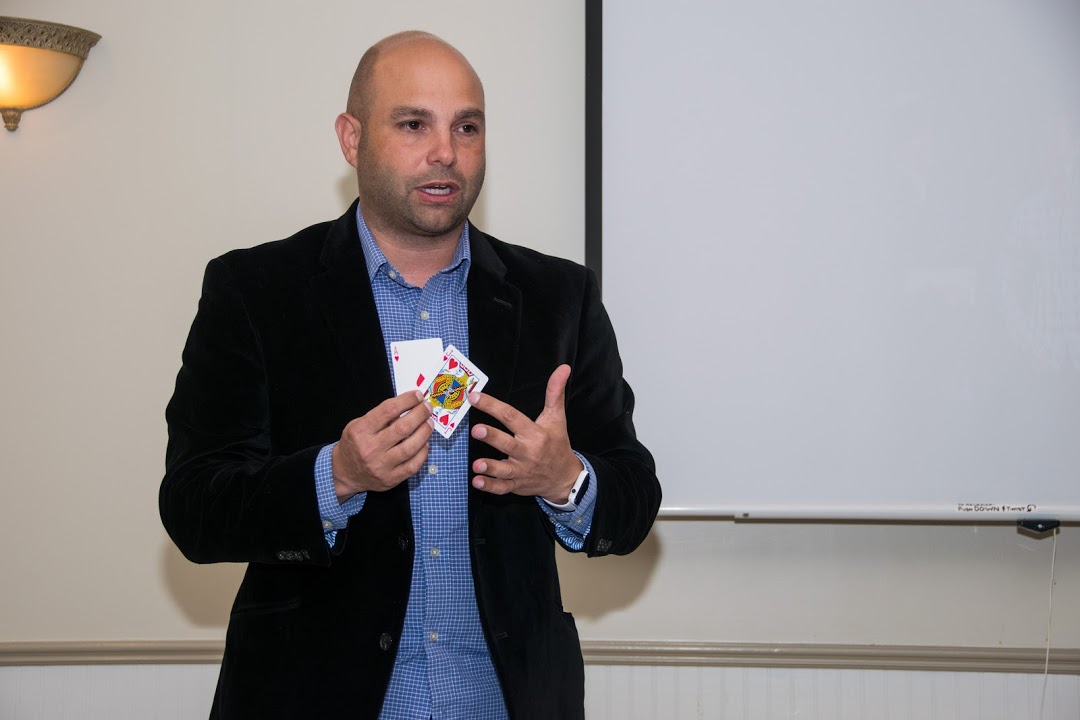 Vinny Grosso gives a guest lecture.
Directory Sign Up Attention SAM Assembly 24 Members: We would like to put a Membership Directory on this website. It will be a password protected page, so only other members would have access to it. Please consider signing up by clicking the button below and filling out the form. Thank you.