THE CAPITAL MAGIC CONNECTION NEWS
JUNE MEETING OF THE IBM RING 186

IBM Ring 186 will be meeting on Tuesday, June 26 , at 7:30 at S. W. Pitts Hose Company, 226 Old Loudon Road, in Latham, NY. The topic for this month's meeting will be comedy magic. Bring one of your funniest routine to share with the group.
JULY MEETING OF THE SAM ASSEMBLY 24
SAM Assembly 24 will meet on Tuesday, July 10, at 7:30 at S. W. Pitts Hose Company, 226 Old Loudon Road, in Latham, NY. Alan Alexander is scheduled present a mini-lecture on the cups and balls. The cups and balls is the oldest known trick in magic. The topic for the open mike portion of the meeting will be magic with balls. No double entendre was intended, but you can read this any way to like.

Ken, our aggressive treasurer, has informed me that there are still some who have not paid their dues for this year. If he doesn't receive your $20.00 on or before July 15, he will remove your name from our membership, and you will no longer be a member of Assembly 24.


ANNUAL IBM/SAM PICNIC – SUNDAY, JULY 29, 2018

The plan is much the same as last year. The event will be held at Sara and Ken Beckley place on Lake George. Their address is:

Beckley's Lakeside Cabins
3950 Lake Shore Drive (Route 9N)
Diamond Point NY 12824
(It is the driveway just after Treasure Cove Resort.)

The picnic starts at 1pm and should wind down about 6pm. This event is open to all magicians and those interested in magic as a performing art. There will no charge for Assembly 24 members and their significant-others. Non members are asked to pitch in $3.00 per person to cover the cost of hamburgers, hot dogs, buns, condiments and paper products. In addition, you are asked you to bring your own beverages and a dish to share.

If you are planning to come please R.S.V.P. no later than Wednesday, July 25, 2017, via e-mail to: cliffordbruce@earthlink.net or by phone at 518 793-6776, indicating the number of guests coming with you and the type of dish you will be bringing. We need to have a head-count to know how much stuff to buy.

Hopefully the weather will be good. If it should rain, there is space to get everyone inside. After lunch, we will have an open mike magic show, so come prepared to do some magic
MARK YOUR CALENDARS FOR THESE UPCOMING SHOWS AND EVENTS

MARK YOUR CALENDARS FOR THESE UPCOMING SHOWS AND EVENTS

Every Tuesday: THE MORNING MAGIC GROUP: meets at 7:30 at Panera in Saratoga. Call Cliff, Dave, Roger, or Helen for information or directions.

June 26: David Blaine at the Palace Theater in Albany. Other than the show starts at 8:00, I have no additional information at this time.

July 29 (tentative date): Annual picnic on Lake George at Ken and Sara Beckley's place. Always a fun day.

September 22: Evil Dan at the Strand Theatre in Hudson Falls. For more information, talk with Dan or wait until we have more information to report.

September 29: Annual banquet at Dunham's Bay Lodge.

November 8,9,&10: ICBM 25th Annual New England Gathering of the Magi at the Sheraton Hartford South Hotel, 100 Capital Boulevard, Rocky Hill, CT. For more information and registration go to: http://www.icbmmagick.com/the-icbm-gathering-2018/

UP-COMING SHOWS AND EVENTS

If you know of a magic related event or show which might be of interest to the capital area magicians, send that information to me in time for me to announce it in this newsletter. Send your information to: cliffordbruce@earthlink.net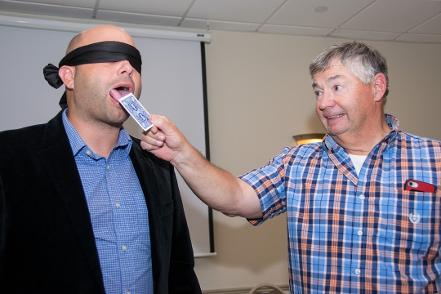 Blind taste testing the magician's way...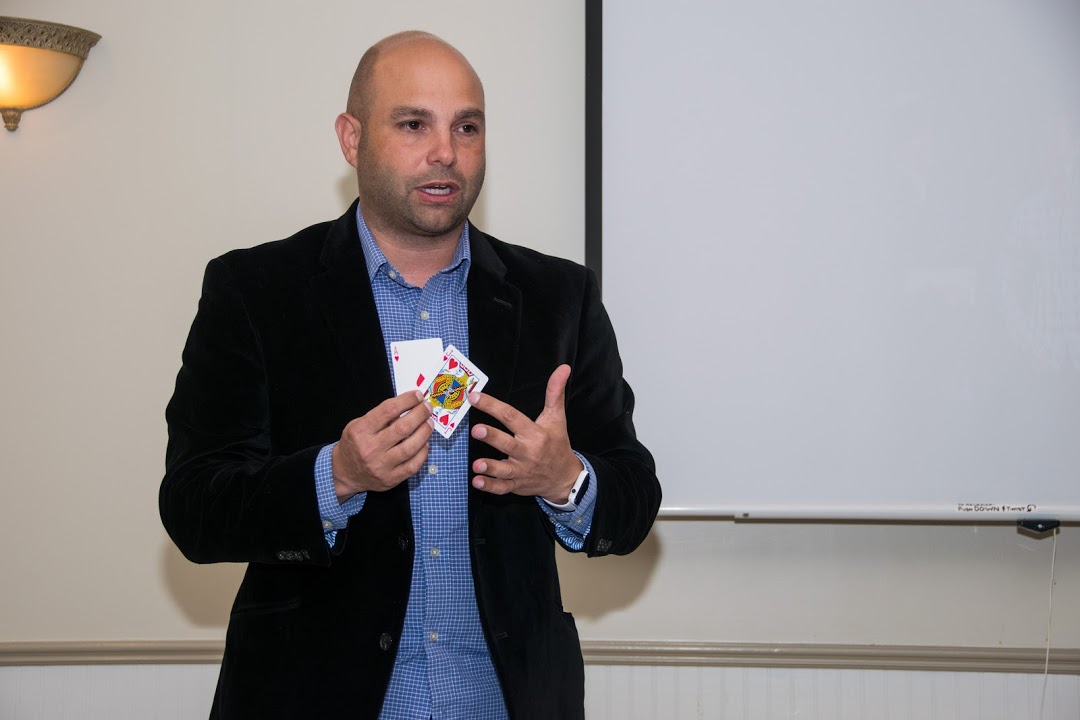 Vinny Grosso gives a guest lecture.
Directory Sign Up Attention SAM Assembly 24 Members: We would like to put a Membership Directory on this website. It will be a password protected page, so only other members would have access to it. Please consider signing up by clicking the button below and filling out the form. Thank you.